How to Fix Shockwave Flash Crashes in Google Chrome
|
The Shockwave Flash Crash that we experience while browsing sites with flash content(such as Youtube is quite common. But recently it has increased quite a bit, up to the point that browsing has become really annoying, and using sites like Youtube is a real pain in the butt.
This is very annoying, since the crash is browser wide and we have to refresh every single page that had flash content in order for the Shockwave Flash Player to reload. You lose all your progress, if any, and also all the buffered content while watching videos.
Unlike other browsers, Google Chrome is particularly more susceptible to these kind of crashes. Read further to find out more and how to fix it in Google Chrome.
Chrome Shockwave Flash Crash
What Causes It?
Google Chrome unlike other browsers has an internal Flash Plugin of its own. By default, it does not use the Flash Plugin that you install in your Operating System(Windows/Mac).
For some reason, Chrome sometimes gets confused which plugin to choose, the OS one(Windows/Mac) or the one which it has internally, so instead it chooses both. This causes lag in the browser, or in the worst case, causes the whole plugin to crash.
So how do we fix this issue? The answer is simple, disable the plugin that is provided in Chrome internally.
Steps to Fix the Sockwave Flash Crash
Following are the steps to fix the Shockwave Flash Crash in Google Chrome.
1. Open Chrome's Plugins page
Open Chrome and type "about:plugins" in the address bar and hit enter. This will open the plugins page of the browser.
about:plugins
2. Click Details
Click "Details" on the top right corner of the page in order to see the whole content.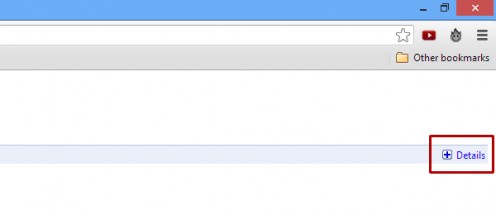 Click "Details"
3. Locate the Shockwave Flash Plugin
Locate the Shockwave Flash Plugin on the page, which is usually the first one. It should indicate "2 files" next to the name, if not this tutorial is not for you, probably you have some other problem with your Flash Plugin.
Locate Shockwave Flash Plugin
4. Disable the File installed in Chrome
If there are 2 files, carefully check the value of the Location field of both the files and find the file that has been installed internally in Chrome. Once you have found it, simply click on the Disable link provided below the location value to disable it.
Disable Plugin
5. Restart Chrome
If you have done all the above steps restart Chrome for the changes to take effect. If everything is done right, Shockwave Flash will not crash like it used to before.
thanks
Reference from