Network Policy and Access Services Setup Windows Server 2008
|
What the Windows Server 2008 Network Policy Server (NPS) is, how it has replaced IAS, how to load NPS, and how it can help you. Although I was familiar with all the concepts and terms regarding the Microsoft Network Access Protection (NAP) and the Cisco NAC technologies, what actually prompted me to take a look at the new Windows Server 2008 Network Policy Server was unrelated to either of those. My interest in the Windows 2008 Network Policy Server (NPS) was to be able to use RADIUS on a Windows 2008 System. Specifically, I wanted to use a Windows 2008 Server to allow me to authenticate PCs using 802.1x and users logging into network devices like Cisco routers.
Open Server Manager and Add a Role
Select 'Network Policy and Access Services'
Check Routing and Remote Access Services and all sub-selections
Configure and Enable
Go to Server Manager and Right Click on Routing and Remote Access and then select 'Configure and Enable Routing and Remote Access'
Select 'Virtual private network (VPN) access and NAT'
Click Next
For VPN you need to select the interface that is connected to the Internet. In this case it is the Wirelss card.
Click Next
I selected 'From a range of addresses'
Click Next
Enter Start and Ending IP Addresses
Click OK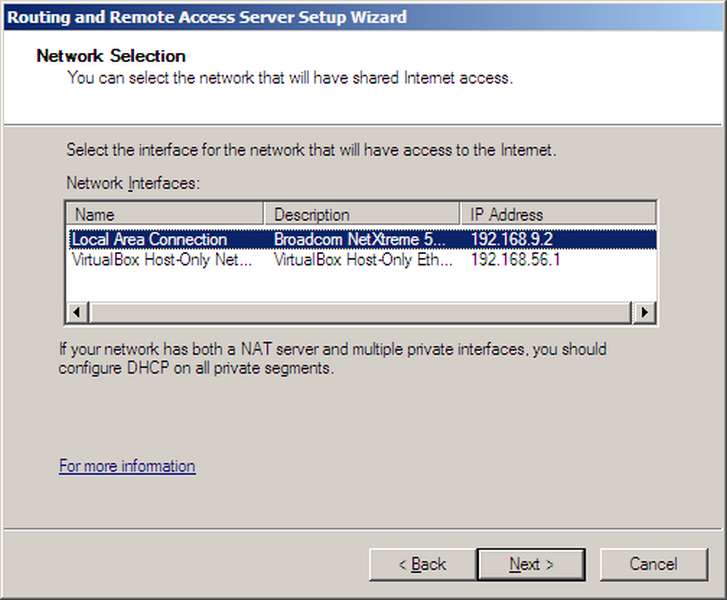 For Network Selection we need to select the inside network cards which would be both that are listed.
Select 'No use Routing and Remote Access to authenticate connection requests'
Click Next
Add New Inside Interface
Server ManagerRolesNetwork Policy and AccessRouting and Remote AccessIPv4NAT
Right Click on NAT and select New Interface
Select Interface that needs to be added
Click OK
Select 'Private interface connected to private network'
Click OK
Change Setting on Data Server
On the Data Server open the Network Connections, Right Click on Local Area Connection and select Properties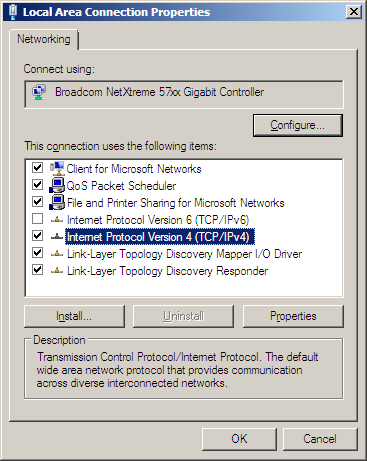 Select Internet Protocol Version 4 (TCP/IPv4)
Click Properties
Change 'Default Gateway' to that of the Server connected to the Internet
Add the same IP address as an Alternate DNS Server
Click OK
Open Internet to see if connection has been made
Do the same on all inside connections